Stew Perry Topband Challenge
Call: F6IRF/P
Operator(s): F6IRF
Station: F6IRF/P
Class: Single Op LP
QTH: IN87
Operating Time (hrs): 8
Total: QSOs = 112
Total Score = 1,416
IC756pro2 -100W
inverted-L on 2x 12m fiber masts
One of the 12m mast used to support the 160m inverted-L

Part-time effort, just to enjoy the low-noise level of my secondary QRA on a band which is usualy forbidden for me due to the HT-line hi-noise level at my main location. Quite a few DX stations heard, but none logged...
Une participation en diletante, juste pour apprécier le calme radio-electrique du QRA secondaire, sur une bande qui m'est habituelement "interdite" en raison,du fort bruit de fond généré par la ligne 380kV qui jouxte le QRA principal. Pas mal de stations DX entendues, mais aucune contactée...Les condx ne semblaient pas terribles, aucune station W/VE dans le log, alorsque j'en ai assez facilement contacté qqs unes pendant la semaine...Stn: IC756 et antenne L-inverse sur 2 mats en fibre de 12m. (pas de radians...juste le grillage entourant le QRA en guise de contrepoids...)QTH: Arzon, dpt-56 (au bout de la presqu'ile de Rhuys, entre golfe et ocean...)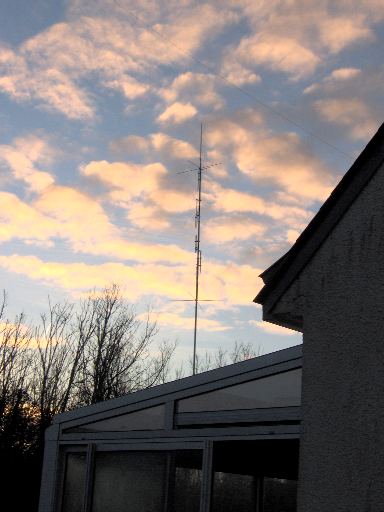 Above, the mast, also supporting a 30m dipole, and here the R7 antenna
I have been active all week, mostly on 160, 30 and 17m both in CW and digital modes...

CN2DX on 160m, recorded fm F6IRF/P (CW and SSB)